|
3
Min read
Transparency is key – in any organisation, transaction, or entity. The Pollution Control Boards (PCBs) which are 29 in number, whereas Pollution Control Committees (PCCs) are 6 in number; are the custodians of environmental laws, regulations, and the future of the population.
The Centre for Science and Environment (CSE) released a report on the 'Transparency Index of Pollution Control Boards in India'. Released in August, the report ranks the SPCBs/PCCs based on:
Public disclosure of information
Minutes of the board meetings
Pro-activeness in monitoring industry compliance
Continuous Emission Monitoring Systems data for air and water pollution
Information on waste management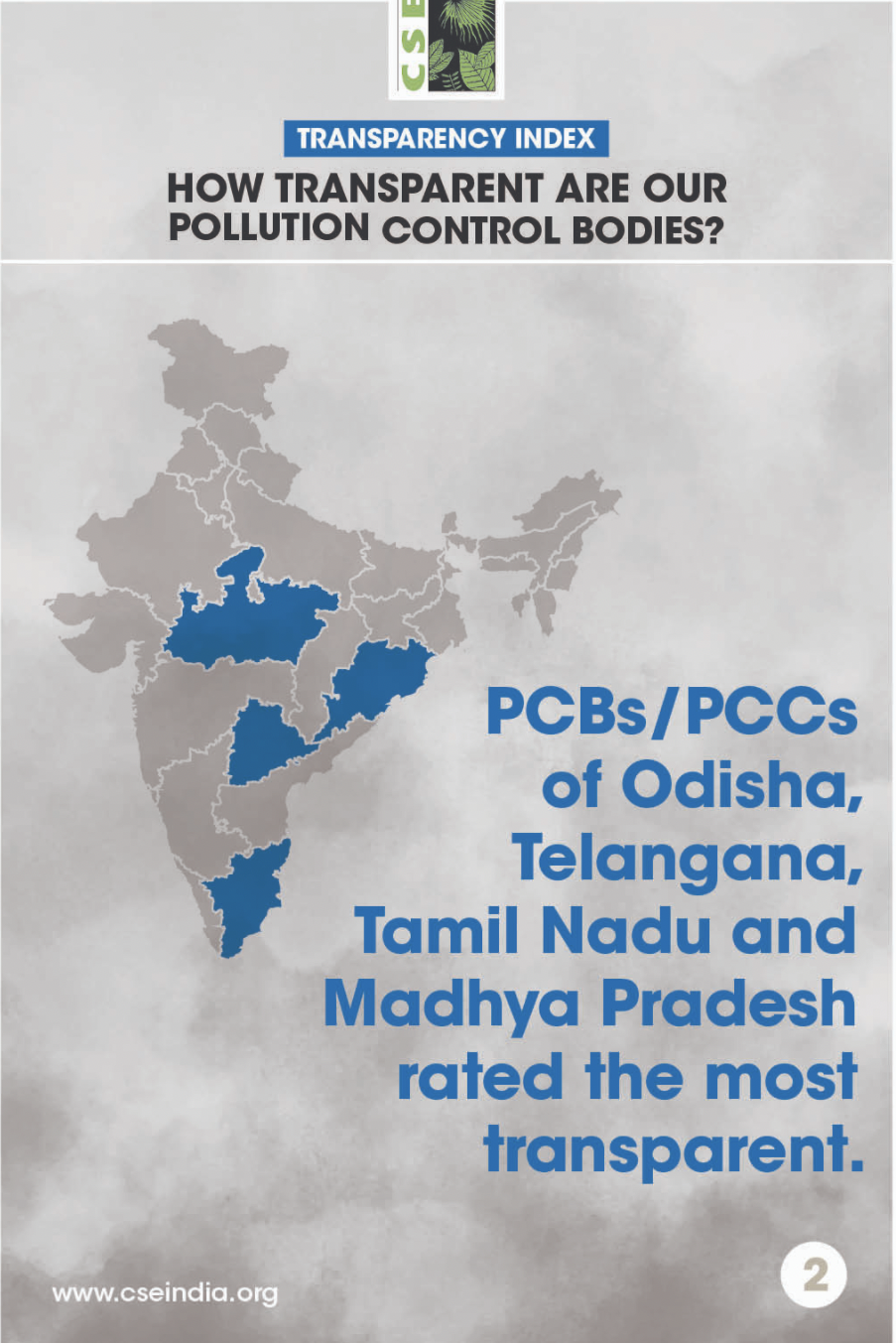 The CSE Transparency Index: Key findings
Only 12 States share their Annual Reports
There are 5 states publish the status of Industry's and their compliance
5 PCBs/PCCs shared the minutes of the meeting – the board meets once every 3 months to discuss key action plans, laws and implementation procedures
5 SPCBs/PCCs have shared information on inspections
9 SPCBs/PCCs provided detailed information on the public hearings – which include EIA reports, minutes of the meetings and more
Multiple SPCBs/PCCs have not shared nay information on waste management – with 11 on plastic waste management, 10 on hazardous waste and 9 on e-waste.
The transparency index score was compiled based on the information available on the SPCBs/PCCs websites. This indicates the necessity for our governing bodies to be transparent and accessible to a consumer, brand, or any civilian in India.
Only 17 of the 35 SPCBs/PCCs scored above 50% Index rating – Odisha, Telangana, Tamil Nadu, Madhya Pradesh, West Bengal, Goa, Karnataka, Haryana, Chhattisgarh, Himachal Pradesh, Jammu & Kashmir, Kerala, Maharashtra, Uttarakhand, Punjab, Andhra Pradesh, and Rajasthan.
Transparency Index Summary Table
State Pollution Control Boards (SPCBs)
SPCBs are the governing authorities in a state – who have the responsibility of protecting, conserving, and monitoring the environment.
Each state in India has its own SPCB, which currently stands at 29.
According to the Water (PCP) Act, 1974 and Air (PCP) Act, 1981: SPCB's… 'advise the State Government on any matter concerning the prevention, control or abatement of water and air pollution'.
Additionally, according to the Plastic Waste Management Rules, 2016 – SPCBs and PCCs have a crucial role in implementing, monitoring, and assessing the management of waste generated in their jurisdictions. Their other roles include:
Monitoring the safe disposal of waste generated and their adverse impact on the ecosystem
Investigation and research on preventing pollution and remediation methods
Play the role of an advisory to the state government on matters of waste generated
Pollution Control Committees (PCCs)
Pollution Control Committees or PCCs are the governing body in a Union Territory. As of today, India has 6 PCCs:
Andaman & Nicobar Islands
Delhi
Chandigarh
Daman & Diu
Lakshadweep
Puducherry
The roles of PCCs are similar to that of SPCBs. The only difference is they are governing bodies for Union Territories in India.
Objectives of SPCBs/PCCs
The objectives of SPCBs/PCCs are mainly to be the custodian of the environment and the laws governing their protection. Following are the main objectives of the State Pollution Control Board:
Ensures the conservation of natural resources
Ensuring there is sustainable economic growth along with environment protection and social equity
Implementation of effective waste management ecosystem
Create public awareness on the adverse effects of using harmful and environment-damaging products.
We believe, transparency will help build accountability and traceability – in a country like India this is a necessity for an efficient ecosystem.
Recykal is a digital waste commerce platform that is designed to assist your brand in manage the plastic waste generated across a/many states in India. With all services under one umbrella, we can ensure transparent, traceable, and comprehensive implementation.
For more details on our solutions, get in touch with us today!
Note: The above listed key findings are based on the summary, the final report is yet to be released by CSE