|
4
Min read
The Role of Stakeholders in EPR implementation is extremely important and of the previously discussed stakeholders, PROs hold the reigns in implementing the framework on the field. Producer Responsibility Organisations or PROs are middlemen between producers, collectors, recyclers, and the national authority.
PROs link PIBOs, recyclers, and aggregators, by enabling PIBOs to fulfil their EPR targets.
Implementation of EPR is challenging for many PIBOs due to their pan-India presence. Setting up a waste challenging mechanism is not an easy feat to achieve. That is when PROs come into the picture. With on-field expertise, PROs establish waste channels around the country in order to help them achieve their targets.
Once a PIBO partners with a PRO, the latter is legally responsible for adhering to the legislation on their behalf. As stated earlier, they collaborate with all the stakeholders in the ecosystem by bridging the gap.
Guidelines
The Uniform Framework for Extended Producer Responsibility (EPR) Guidelines were published by the Ministry of Forest, Environment and Climate Change (MoEFCC) of India, as a part of the Plastic Waste Management Rules (PWM), 2016, in June 2020.
The guidelines welcome PRO registrations across 4 groups based on experience, giving a chance for beginners to enter the market and support small producers in the system.
Additionally, the Draft Guidelines and the consecutive amendments of EPR provide PIBOs with 3 Models to choose from to fulfil their EPR responsibilities, in a span of 5 years from the date of notification. Of the three models of EPR implementation prescribed by CPCB is the PRO Model.
The PRO model is sort of an outsourcing mechanism, wherein PIBOs do not take the operational and recycling responsibility but rather outsource it to a PRO or create their own. The PROs must be registered under the EPR rules and provide brands with the services required to fulfil their EPR requirements.
In addition to the executive orders, PROs have certain roles to play which decide the effectiveness of EPR Implementation in India.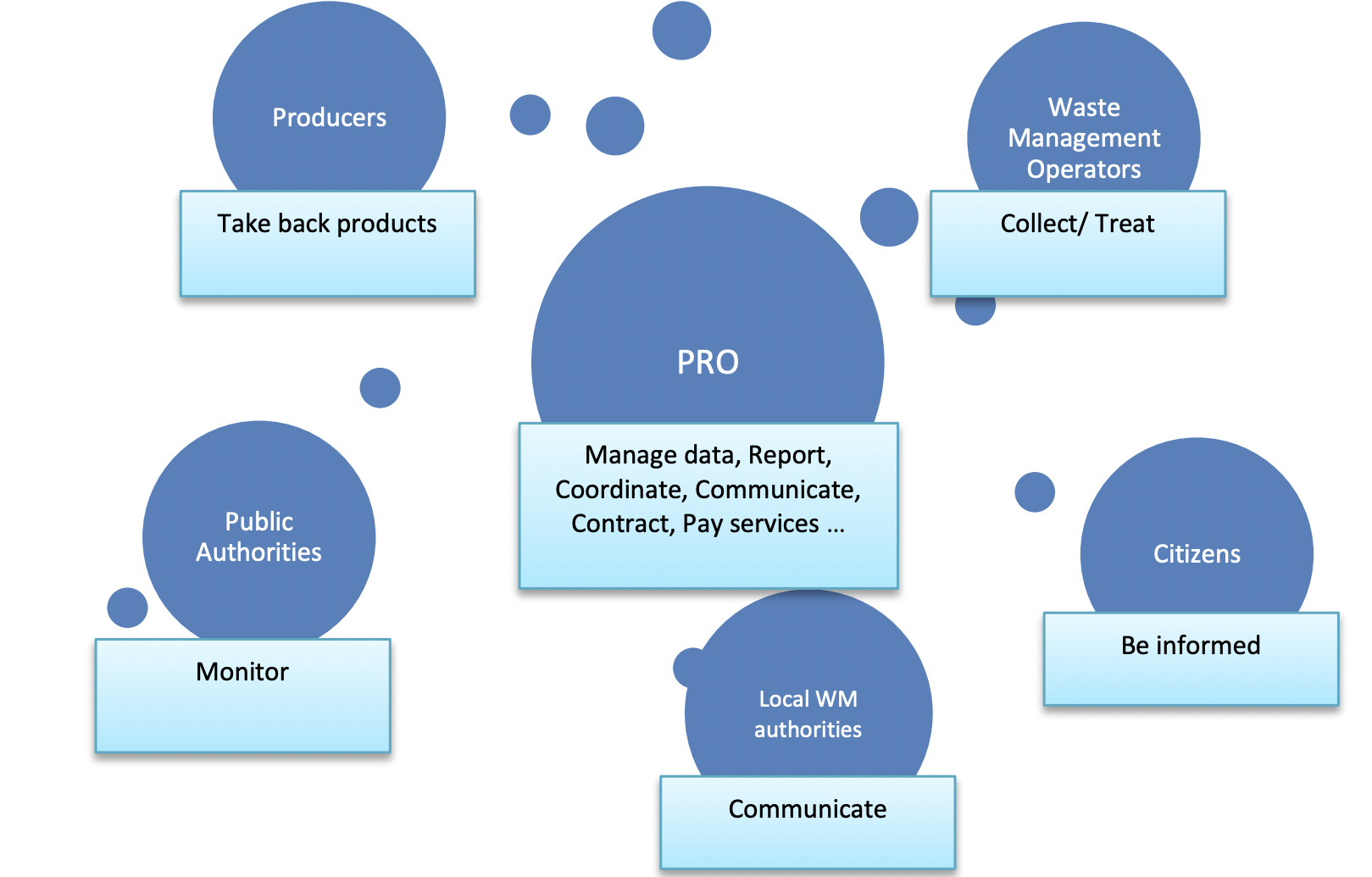 Role of Stakeholders in EPR implementation
They form a crucial link in the system – particularly in the EPR implementation, strengthening of markets and recycling system, awareness creation, establishing a framework that provides financial incentives to all stakeholders and many more. Below are a few of the listed roles of PROs in EPR implementation.
Creating Awareness among Consumers and Waste Generators
Bringing awareness to consumers and waste generators is an important role of a PRO. Through campaigns, creative publications, events, and many other modes of communications. PROs have the responsibility to motivate them to:
Separate waste at source
Educate themselves on the types of waste
Actively encourage employees, and other staff to adopt sustainable practices
Transition to sustainable waste management solutions
Not just through programs, with take-back or buy-back schemes, PROs encourage consumers to recycle their waste (Plastic and E-waste) which is a valuable resource for producers.
Cooperation with Government Authorities
One of the key responsibilities is to help in Data Management. PROs work as the source of data for Government Authorities such as the Central Pollution Control Board (CPCB) or State Pollution Control Board (SPCBs). This enables them to make informed decisions on the implementation of guidelines, policies and programs.
Alternatively, Cooperation can be in the form of financial, logistical, technical, or others forms. Interactive dialogue and collaboration will help PROs find effective solutions for a country as varied and vast as India.
Helping PIBOs with Upstream Innovations
Upstream Innovation is a crucial aspect of EPR. Implementing EPR as a holistic tool will bring more sustainable solutions, waste management is just one aspect of the framework. With both Downstream (waste management) and Upstream (Design Innovations) changes, handling and protecting our resources is much more efficient.
PROs assist PIBOs in helping bring organizational change and streamlining to their process which provides insights into ways of production.
Team Recykal's EPR Loop is a single digital platform that helps PIBOs to manage their channel partners, understand their targets and bring changes.
Recognising Innovations in Waste Handling
To be up to date with the growing innovations in waste management, especially in recycling, PROs help PIBOs in opting for the most efficient and effective innovative ways of handling waste. Due to their pan-India presence and a network of recyclers and aggregators, a PRO can link a certain type of waste to a relevant recycler around the country.
Furthermore, providing logistical support in waste collection, sorting, management, and recycling. With services spread out across the country, they help bridge the gap with their network of stakeholders within and outside the system
Benefits from Role of Stakeholder
PROs activities benefit all the stakeholders in the framework:
Producers – PROs help assist them in meeting obligations, reduces the burden of finding recyclers, and creates a chain of waste management
Recyclers/Aggregators – links them to relevant producers by bridging the gap, formalises the role of the unorganised sector
National Authority – PROs assist them in data collection, implementation of frameworks, and most importantly in creating a transparent system
Consumer – PROs make efforts in creating awareness in the consumer market, and provide a platform for consumers to reach recyclers/aggregators
Recykal works tirelessly to create a sustainable and beneficial system for each of these stakeholders.
We work digitally and on-field by partnering with local partners and finding efficient solutions for both brands and recyclers alike.
Our partnership with Urban Local Bodies (ULBs), SPCBs, and CPCB has been a cordial and fruitful journey. With more than 100+ businesses and 500+ aggregators in partnership around the country, we have channelled more than 10,000 MT of waste!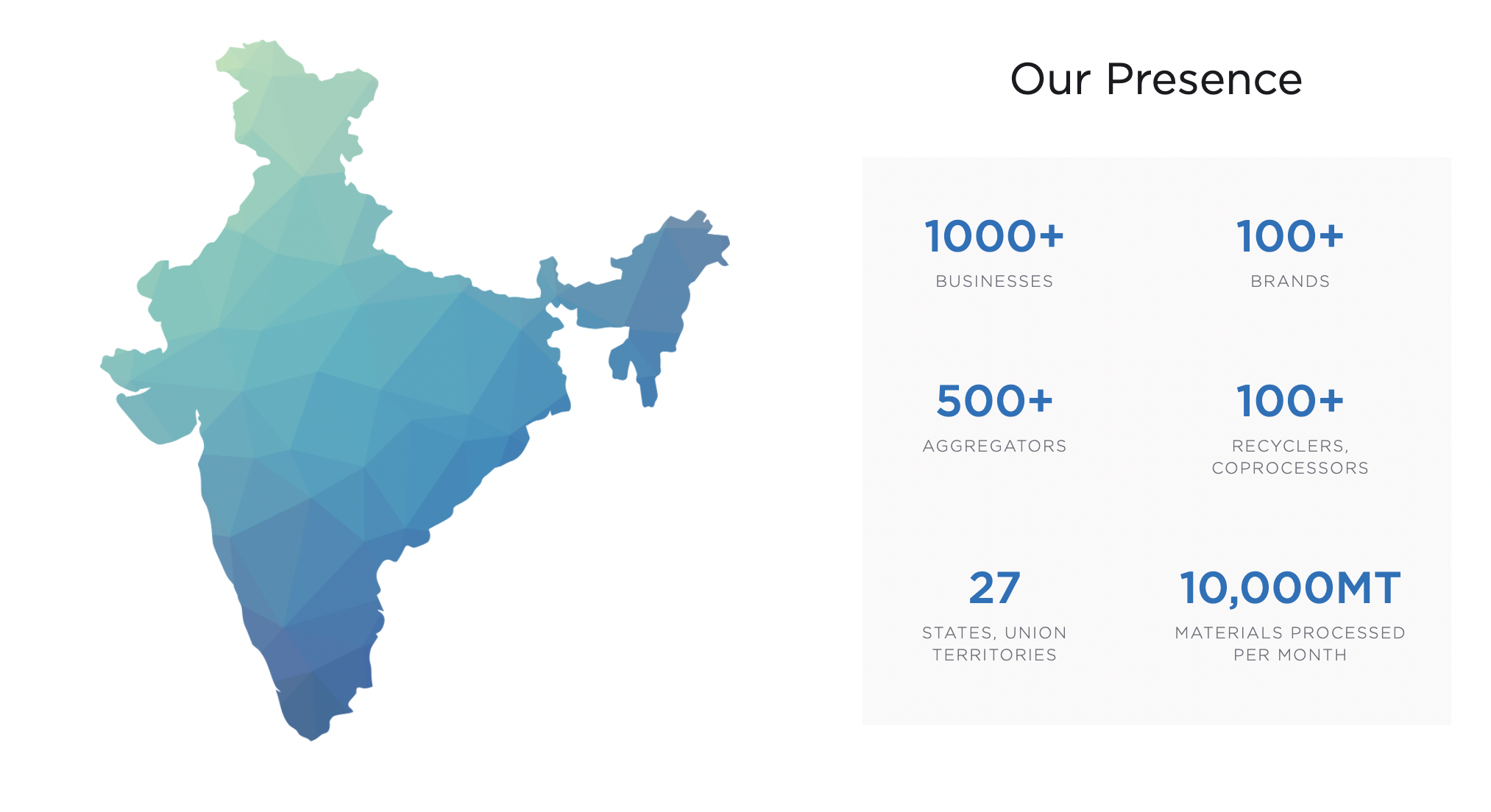 If you are a PIBO based in India and are looking towards implementing your EPR fulfillment plans, we are here to assist you. With a growing network of Brands, Recyclers, Aggregators, and Local Waste Pickers – our EPR Loop will make you a part of this umbrella network 'Digitally'.
Interested? Get in touch with us or book a free 30-minute EPR consultation with our team of experts.