|
2
Min read
The average prices of PET scrap saw a consistent rise across the month. It should be noted that the prices across the country varied by at least 5-6% and the price fluctuation due to local factors has impacted the national average.
A consistently high rate was observed in Himachal Pradesh with ₹ 48.5/Kg at the highest. On the other hand, lowest rate was observed in North Western states like Gujarat – ₹ 43.5/Kg.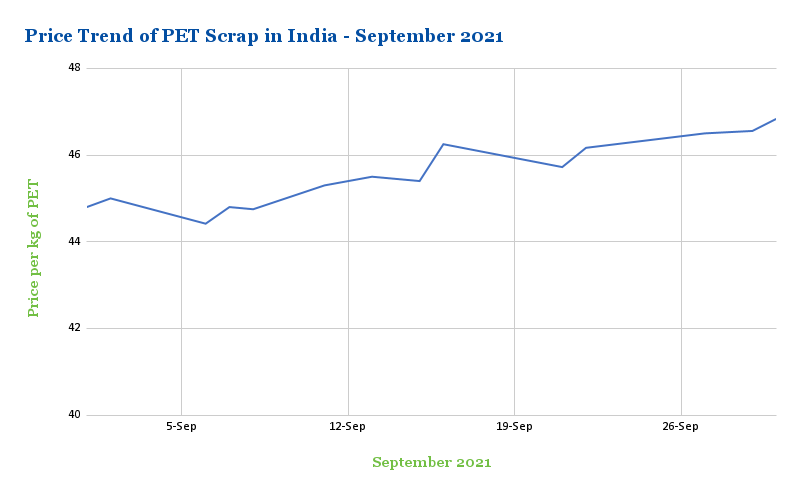 Week 1 (1st – 7th September)
Highest ⬆️ : ₹ 43/kgLowest ⬇️ : ₹ 46.5/kg
Week 2 (8th – 14th September)
Highest ⬆️ : ₹ 41.5/kgLowest ⬇️ : ₹ 47/kg
Week 3 (15th – 21st September)
Highest ⬆️ : ₹ 44.5/kgLowest ⬇️ : ₹ 48/kg
Week 4 (22nd – 31st September)
Highest ⬆️ : ₹ 43.5/kgLowest ⬇️ : ₹ 48.5/kg
Factors affecting PET bottle Scrap prices
There are multiple factors affecting the PET bottle Scrap prices in India. In a broader view, the prices have seen a rise due to – Gaps in Demand & Supply.
To be more specific, the other factors affecting PET bottle scrap prices in India are:
Consumer consumption behaviour due to the heavy monsoon that affected many parts of the country – led to low availability of PET plastic.
Pandemic related disruptions in consumer industry
Disruptions in Transportation and surge in demand for logistics
Prices of Virgin PET plastic, Flakes, Fibre and more
Want to buy and sell your PET scrap easily?
Head over to Recykal Marketplace mobile applications – a one-stop solution for buying and selling your baled PET scrap to buyers around the country.
Download the App now!