|
3
Min read
EPR and Plastic Recycling? The Extended Producer Responsibility or EPR is a precursor to Plastic Recycling. In a country that produces more than 3.3 million tonnes of plastic every year, EPR is a policy tool that will help in enabling Plastic Recycling.
Extended Producer Responsibility or EPR as the name suggests, is the responsibility of a product manufacturer to manage the waste generated from products after its end-of-life use by the consumer, which reduces waste entering landfills and heightens recycling rates with many other benefits.
We recognise that, while EPR is a necessary and vital part of the solution to packaging waste and pollution

Ellen McArthur Foundation
This policy tool is widely used across countries like Switzerland, the USA, the UK, Canada, and many other OECD member nations, who have shown the effectiveness of its implementation by achieving ambitious recycling rates – Germany with 56% recycling rate.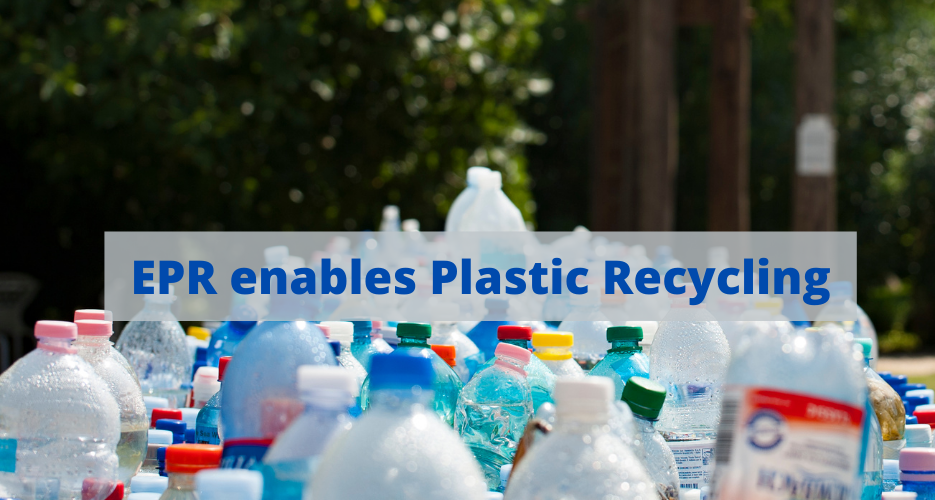 The Central Pollution Control Board (CPCB) has mandated Producers, Importers, and Brand Owners (PIBOs) for EPR Registration on their online portal.
The plastic waste being generated must be sent to recycling, and the stakeholders in the EPR ecosystem have a crucial role to play.
Below are the 4 key reasons why EPR is the solution to enable plastic recycling in India.
1. Environmental Protection
EPR enables plastic recycling, which is the core principle of the policy tool.
Reduce overall packaging use
Improve collection and recycling of packaging waste
Improve packaging designs for greater recyclability and reusability
Increase resource efficiency by reducing the use of virgin material
Halt plastic leakages into nature
2. Social Benefits
EPR implementation has many cascading benefits for the stakeholders. One key stakeholder being the informal sector and their social well-being.
There are an estimated 1.5-4 million waste collectors in India, who process more than 95% of the waste generated
Strengthens interaction along packaging value chains – material suppliers, convertors, manufacturers, brands, retailers and waste management operators
Job creation along the packaging value chain
Integrate informal sector, improve health and safety of waste pickers and collectors
Formalisation of informal recycling practices
3. Economic Growth
Recycling creates a sustainable economy, with the implementation of EPR the rate of plastic recycling will drastically increase. EPR is an integral aspect in building a circular economy which has proved to aid economic growth. It'll help in:
Collective action to shift towards circular economy
Boost recycling market
Bridges the gap between demand and supply
Reduce dependency on virgin material
The waste entering landfills is drastically reduced and lowers the cost of environmental remediation
4. Administrative Transparency
In the Indian context, implementation of EPR will ensure transparency in the administration process .i.e from the government's point of view. You must be wondering Is EPR Certification is Mandatory in India? Yes, it is mandatory for PIBOs to have EPR Registration and propose an action plan for their EPR implementation in India.
PIBOs shall fulfill EPR in all the States/UTs in which they are introducing their products. EPR Target for a particular State/UT shall be equal to the type & quantum of plastic introduced by them in the market (post-consumer waste) in the specific State /UT

Central Pollution Control Board (CPCB)
Ensures policy level decision making is inclusive
Transparency in formulation of policies and its implementation
The EPR database will help in strategic planning and development
Recycling Industry incentives can be better designed
Provide an bird-eye view on the status of recycling in India
Finally, the above-listed reasons highlight how EPR will ensure the recycling ecosystem is created across all stakeholders and ecosystems in India. EPR has been proven to be an effective policy tool to increase recycling rates and this can be translated into the Indian context.
If you are a PIBO based in India and are looking towards implementing your EPR certification plans, we are here to assist you in it.
Recykal is a registered PRO that uses its digital waste management platform to manage plastic and e-waste in India. With a growing network of Brands, Recyclers, Aggregators, and Local Waste Pickers – our EPR Loop will make you a part of this umbrella network 'Digitally'.
Interested? Get in touch with us or book a free 30-minute EPR consultation with our team of experts.