|
5
Min read
What is Extended Producer Responsibility?
Extended Producer Responsibility or EPR is an environmental protection strategy or policy tool used by governments around the world.
EPR has been adopted for many categories of waste, with plastic and e-waste being the predominant group of waste products. There are roughly 14 categories of waste which include bulky, difficult to recycle, non-recyclable waste products.
According to OECD EPR is normally implemented with two key objectives: One being to enable collection and increase in recycling rates of the products at the end-of-life-use, and another being making the producers financially responsible for the waste generated. The latter transfers the financial burden of waste collection from municipalities to the producers; who must also promote and incentivise design and product innovations.

EPR has four broad categories of implementation schemes:
Product take-back programs
Take-back, buy-back or exchange programs by producers/retailers to enable collection and recycling activities post-consumer use of the products
Economic & Market based instruments
These include Deposit Refund Schemes (DRS), Advanced Disposal Fees (ADF), Material Taxes, Upstream Combination Taxes/Subsidy (UCTS), etc. are implemented by producers or policymakers to ensure the product is brought back for recycling – by the consumer or is efficiently collected by a producer.
Regulations & Performance standards
Policymakers can introduce recycling standards, which can be achieved by voluntary programs by Producers, Importers & Brand Owners (PIBOs)
Information-based instruments
Mandatory information disclosure, labeling products, creating awareness among consumers – waste separation, consumer responsibility, etc., and extend information to recyclers about the materials used in the products.

Information-based instruments and Regulatory standards will help hold the producers and the policymakers accountable, thereby ensuring compliance.
EPR around the world
The implementation of EPR around the world has shown a significant increase in collection and recycling rates. Implemented in different forms across many countries, yet the underlying core of the policy remains the same: "Onus of waste Collection & Recycling lies with the PIBOs"

Japan & The Republic of Korea (South Korea) have had a well-established EPR framework for over two decades. Both nations have a well-established waste management ecosystem and a robust monitoring framework. In South Korea, producers and importers are required to pay an Advance Disposal Fee for products that are hard to recycle.

China and Indonesia have recently begun their EPR implementation schemes, however, they are yet to be fully functional. China's EPR framework focuses on recycling e-waste, with monetary penalties for mishandling the waste. Their approach to plastic waste is by imposing a ban on all non-biodegradable plastic in the country and stating that the onus of plastic waste collection and recycling lies with the producer or manufacturer.

Europe, In 1994 after the failure of the voluntary take-back programs, the European Union (EU) issued a directive, requiring member nations to introduce regulations for reusing, recycling of packaging waste. Member nations have effectively implemented in their own ways, with the underlying theme of Extended Producer Responsibility. The costs have been shared or completely borne by the manufacturers, Southern European countries have shared the costs between the authorities and manufacturers.

The chart below is an indication of how the recycling rates saw a significant increase since the implementation, many countries passed the 55% recycling rate target.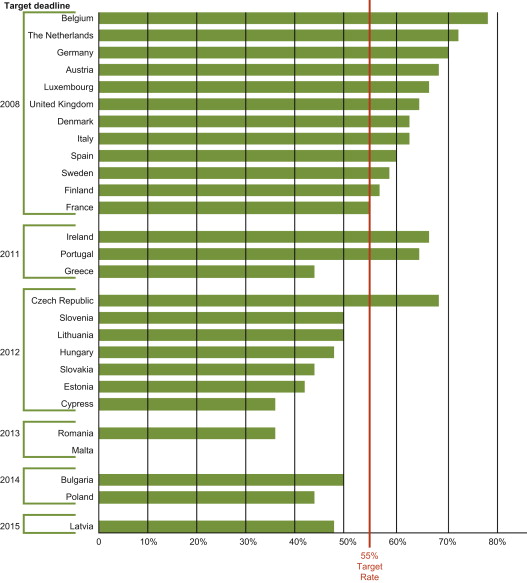 The United Kingdom, clearly states the financial responsibility for handling plastic waste lies with the producer. 'Modulated Fees' is encouraged for items that can be easily recycled, repurposed or reused, and a higher fee for items that are difficult to recycle. This provision helps the growth and incentivises innovators and product designers.

African countries are still in the nascent stage of adopting the Extended Producer Responsibility framework. In countries like South Africa, where growing e-waste is an increasing problem, the waste is still handled by the informal sector.

In the USA, as of 2019, there are 115 EPR policies across 33 states, covering 14 categories of items in its ambit which are hard to recycle or bulky materials – ranging from mattresses, electronic wastes to pharmaceuticals, and plastic waste. Since the implementation of EPR, there has been a considerable increase in the recycling rates across the states, with others still following voluntary implementation.

USA & Canada has implemented a Product Stewardship Program, which is a voluntary initiative aimed at reducing the burden on government organizations by focussing on product re-designing, change of marketing methods, innovative collect and recycling programs.

The image below is a list of the voluntary initiatives implemented by brands/companies in North America, as a part of the Product Stewardship Program.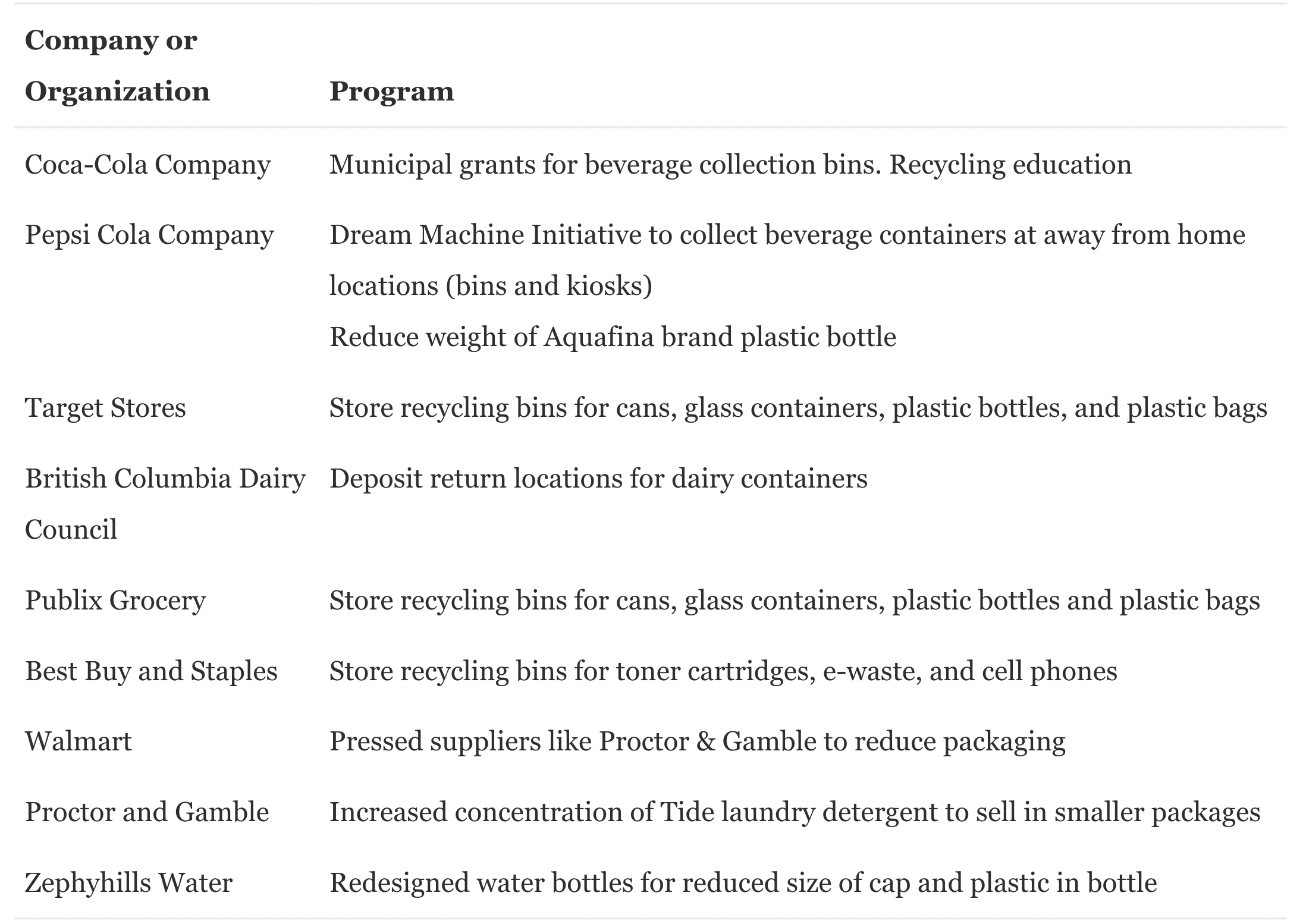 Latin American countries like Chile, Mexico, Brazil, Argentina, and a few others have implemented EPR at the start of the 21st century. Most of their policies focussed on the e-waste market and its large potential. However, these countries have only partially implemented the EPR schemes.

Irrespective of the implementation programs, their effectiveness is overtaken by the rising rates of mismanaged plastics. EPR has been an effective policy tool, however, this requires extensive collaborative and holistic participation by all stakeholders in the system.

The image below highlights the mismanaged plastic, and the contrasting difference between countries that have adopted EPR for over decades to the ones that have recently implemented. European countries have had EPR schemes for over two decades while India and China have only recently implemented the program.

There are worldwide examples of how EPR is an effective policy tool to strategically manage plastic, e-waste, or other non-recyclable or difficult to recycle waste.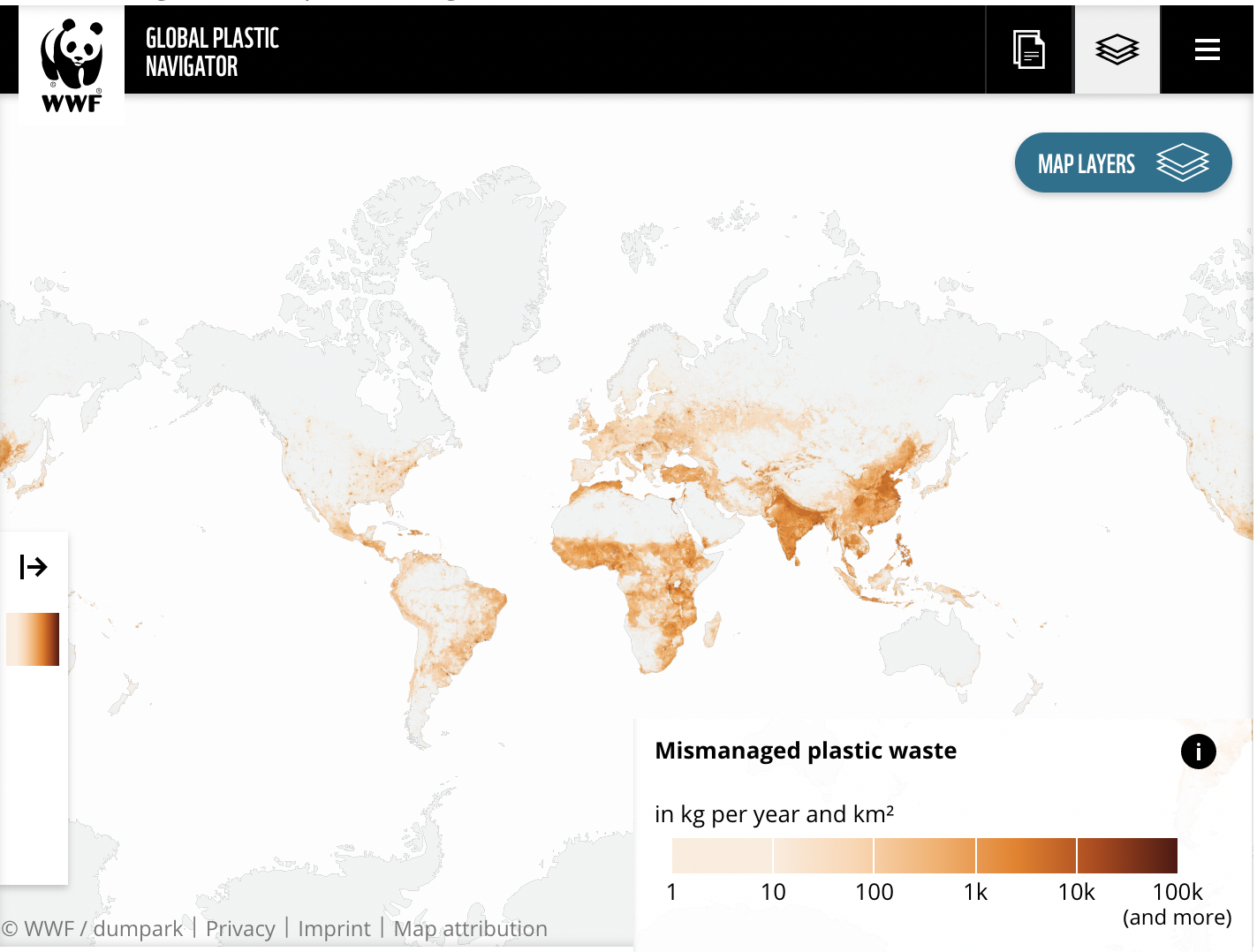 India & Extended Producer Responsibility
India, implemented the EPR guidelines in 2016 covering plastic packaging waste and electronic waste. The policy uses concepts of:
Plastic Management methods for PIBOs
A Registration Portal and Database of PIBOs which will help track and monitor the waste that is being managed
Strengthening of local authorities known as Urban Local Bodies through financial support from PIBOs towards empowering them through knowledge, infrastructure and awareness programs.
Use of Deposit Refund Schemes, Take back programs or other tools by PIBOs
Still, in the early stages of implementation, the Central Pollution Control Board f India has published documents and guidelines for PIBOs, Producer Responsibility Organisations (PROs) and other stakeholders on their duties and responsibilities. The most recent document is on the Action Plan for PIBOs to register with the CPCB.

If you are a PIBO based in India and are looking towards implementing your EPR fulfillment plans, we are here to assist you in it. Recykal is a registered PRO that uses its digital waste management platform to manage plastic and e-waste in India. With a growing network of Brands, Recyclers, Aggregators, and Local Waste Pickers – our EPR Loop will make you a part of this umbrella network 'Digitally'.