|
3
Min read
The oil prices have a direct impact on the PET Plastic Recycling Industry. But why?
PET or Poly Ethylene Terephthalate is made from the by-products of crude oil/ petroleum extraction. When the prices for oil fall, there is a fall in the costs of virgin PET plastic manufacturing. This is a positive for the virgin plastic market, however not conducive for the PET Plastic Recycling industry. When the costs of virgin plastic drop, manufacturers prefer virgin over recycled PET (rPET). Hence, virgin plastic becomes more appealing to manufacturers.
Drop at crude oil prices results in lowered costs of cheap plastic which encourages the manufacturing of low-cost single-use plastic which adversely affects the economy and the environment if not disposed of properly.
Crude Oil and PET?
PET is a form of polyester. The raw materials for PET are made from crude oil and natural gas. It is made from petroleum hydrocarbons and is the result of a reaction between monomers ethylene glycol and terephthalic acid.
The change in prices of Crude oil on a global scale has a direct impact on the PET manufacturing industry. It should be noted that the plastic manufacturing industry amounts to just 10% of the demand for crude oil, globally.

Cheap oil might be beneficial for consumers, but it is detrimental for plastic recycling activities

– Prof. Steven De Meester and Prof. Kim Ragaert, experts in plastic recycling
Impact of Crude Oil and recycled PET in India
As stated above, a fall in crude oil prices results in cheaper costs of production of virgin plastic. In this context, manufacturers are attracted to lower costs of virgin plastic, and the demand for rPET drops which adversely affects its prices.
In the past, recycled plastic was cheaper than virgin plastic, but with falling crude oil prices and advanced technology the costs of virgin plastic have significantly dropped. Additionally, manufacturers prefer virgin plastic in the assumption that it is a better raw material compared to rPET Plastic.
India produces nearly a million tons of PET virgin plastic each year and only 65% is recycled, according to Hindustan Times. With the fluctuating crude oil prices, the demand for rPET plastic remains unpredictable. The growing focus on regulations on PET manufacturing and recycling has created an ambient environment for a growth in demand for rPET.
The image below is a price trend comparison of crude oil price and resins (plastics) price index. The image represents the direct relationship between the prices of oil and plastics. This chart is globally applicable, given the uniform method of manufacturing plastics across the world.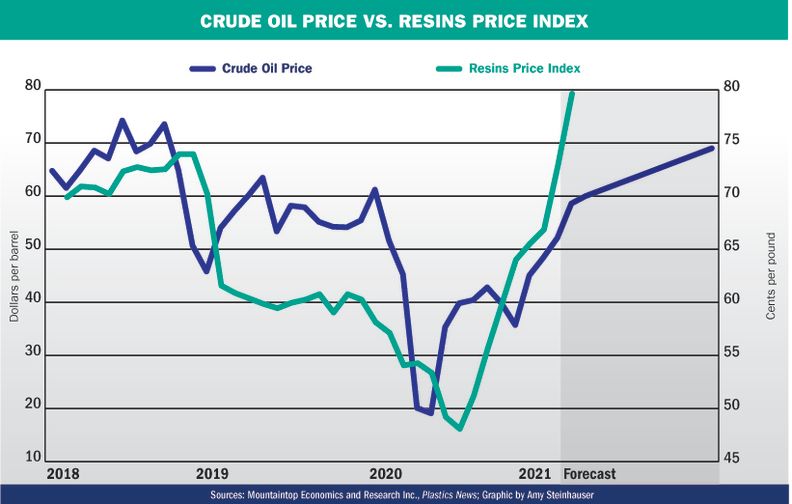 With the growing demand for packaged food and hygiene packaging during this pandemic, there is a rise in demand for virgin plastic. Only time will tell if manufacturers will transition towards rPET in the coming years, which will considerably reduce the demand for virgin plastic.
Domestic consumption of virgin plastic was predicted to touch 20 million tonnes by end of 2020

Economic Times
In conclusion, businesses and consumers are off late becoming more aware of their purchasing habits, giving way for greener alternatives like rPET. This increased awareness is a boost to the PET Plastic Recycling industry as a whole. On the other hand, the growing demand for rPET will ensure the creation of a robust and sustainable circular economy.
Additionally, conducive legislative and executive actions will boost the PET Plastic Recycling industry, possibly making it less vulnerable to changing crude oil prices.
If you are a Recycler, Aggregator, or Bulk Waste generator and are looking to sell/buy PET bottle scrap, head over to Recykal Marketplace. The Marketplace platform enables transactions that help in bridging the gap between the demand and supply, i.e between waste generators and recyclers, processors, and energy recovering facilities.
The platform provides category-specific buyers/sellers, based on location, accessibility, and more with transparency, traceability, and access to a large network of vendors at the tip of your fingers.
For regular price, updates download the app now