|
5
Min read
The deposit Return/Refund Scheme (DRS) is a system that incentivises the return of end-of-life products (packaging, electrical, and electronics products) through a refundable deposit. The consumer pays a deposit while buying the product and they receive the amount back when they return the product or packaging to the retailer or an authorised drop-off point.

The collected materials are sent to authorised recyclers, which will ensure the waste in beneficially recycled. Consumers will forgo the initial deposit if they do not return the product. A cloud-based system that helps governments and smart cities deploy and manage DRS schemes digitally with an app-based collection and payments mechanism.
Benefits of Deposit Return Scheme
1. Creates awareness on segregation and helps add value to waste
Adding a monetary value to the waste generated helps create the much needed awareness on waste, especially plastic and e-waste. This enables the consume to consciously dispose their waste since they have a monetary return waiting for them.

A university in the USA adopted the DRS in their university cafeteria, where students who purchase food can deposit their containers in a machine and receive a discount voucher for their next purchase. This has led to a university-wide awareness and simultaneously encouraged students and staff to buy food in that cafe. It was a Win-Win!

Lack of segregation is a primary bottleneck in our waste ecosystem, there is an urgent need to address this issue and DRS could be the solution. Including consumers in the recovery and recycling ecosystem will play a crucial role in the times ahead.
"What India needs desperately is an effective and automated waste management model" – Abhishek Deshpande – Co-Founder of Recykal
2. Reduces material recovery and Extended Producer Responsibility (EPR) costs
Once a product is purchased, the manufacturer or producer has limited control on what the consumer choses to do with the waste the end-of-life of the product. DRS is one effective way for brands to encourage and motivate consumers to return the waste rather than disposing it into the rubbish bin.
For instance, a piece of plastic – could be a wrapper, a bottle or a straw, is immediately disposed into the bin which eventually ends up in the landfill.
On the contrary, e-waste which is electronic waste is hoarded at homes and offices which otherwise could be recycled for valuable parts and materials.

Companies like Samsung, Apple, and other electronics manufacturers have implemented their own ways of initiating recycling culture through take-back programs, or exchange programs which is another form of DRS.

For the model to be implemented one such tool is the DRS or Deposit Return System or Deposit Refund system- which enables/ motivates the user tor return the plastic waste in exchange for a monetary deposit.

Team Recykal has pitched this idea of DRS to many local authorities and governments, whose participation will bring  a significant change in the waste management system.

With a proven success rate of 90%, the scheme will not just reduce the plastic waste entering the landfills, but will effectively change the mindset of users, business and all the relevant stakeholders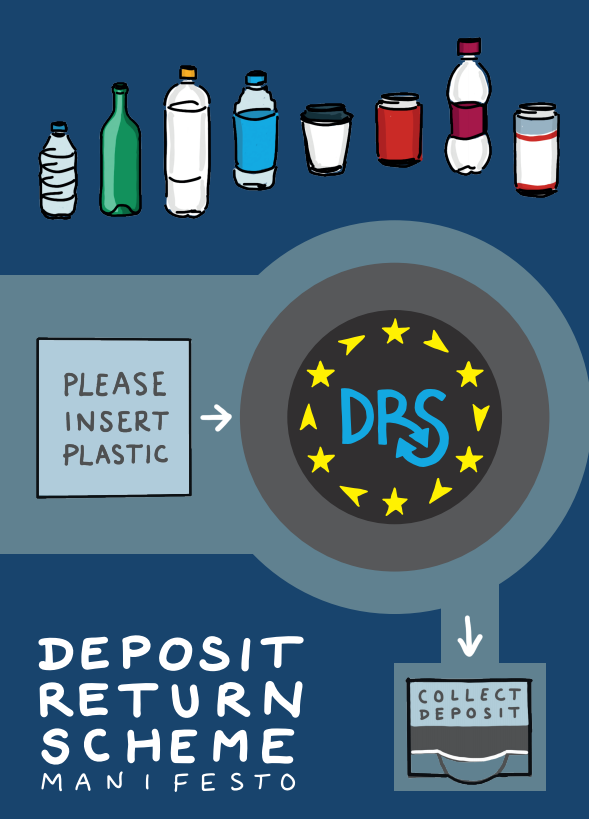 Brands around the world have effectively merged their EPR with the Deposit Return Scheme to manage the waste produced from their brands or products. Here are a few worldwide examples:
Danon, the company that produces Evian packaged water, had pledged to implement a circular economy by 2025, by optimising an EPR and DRS system
Our much loved beverage (coffee) to be served in reusable cups with a Deposit Return Scheme. Mcdonald's corporation UK and Terracycle's Loop collaboration to introduce Reusable beverage cups.

With an aim to reduce waste and create a Loop, McDonald's will introduce a DRS system to encourage customers to return their beverage cups for a small deposit
The Loop partnership will ensure each cup is sanitised and washed with stringent safety standards which will be in collaboration with Ecolab
This initiative not just highlights the importance of a DRS system but also showcases the need for industry collaboration and partnership to bring that significant change
3. Increases Recycling rates
Reloop's Global Deposit Book 2020: An Overview of Deposit Return Systems for One-Way Beverage Containers identified that the recycling rates have increased significantly with the implementation of DRS.
A recycling rate of more than 85% was achieved in many return-to-retail programs
European countries recorded a 91% recovery rate for beverage containers
Australia recorded an 86% recovery rate
Lithuania saw its collection rate increase from 34% to 94% in just two years
The European union has put an ambitious target of achieving 90% recycling and recovery rate for beverage bottles by 2025, and they strongly believe DRS is the best solution. In the latest update, UK has decided to revolutionise the recycling ecosystem by introducing the DRS system by charging 20pence extra on beverages.

India has a low recovery rate of just 50% which can be considerably increased if there are schemes as such being deployed.

The deployment of DRS across all cities of India would significantly increase the recycling rate and simultaneously create a habit of waste segregation. DRS implemented by the Urban Local Bodies, Communities, Brands, and others will have a larger and a significant impact on the recycling rates.

Especially during the current global pandemic, there is a drop in the recycling rates owing to a lack of movement and active participation from consumers. Recykal's digital platform aims to bridge this increasing gap and provide waste pick-up services for consumers through an easy one-touch access mobile application – UZED. As for a brand or a bulk waste generator we have alternative solutions and applications to assist you in channeling the waste collected through this scheme.
4. Reduces the contamination of environment from plastic and e-waste disposal
Our favourite bottle of beverage or a chips packet is often found swaying across the beach, in the forest or a street nearby. The only way to stop it when there is a monetary return for the waste. In the olden days, home makers would collect and sell used milk packets in return for money, to the nearest recycler. Shifting to present day modern living and technology – DRS will help re-introduce this habit or culture among consumers and waste generators.

Especially in important tourist destinations, offices, beaches and other vulnerable areas the DRS system will help reducing the amount of waste that is littered in our environment.

A zoo in India adopted this system and has found that the amount of waste generated and litter in the park considerably reduced. Our team is working with forest officials and local governments to implement similar schemes in the area which would considerably reduce the plastic litter.

Improper E-waste disposal has been found to contaminate the surrounding air, water, soil, and the whole environment. E-waste recycling is imperative and an effective way to enable this is through Deposit return schemes – which would be lucrative for the consumer, brands, and the environment.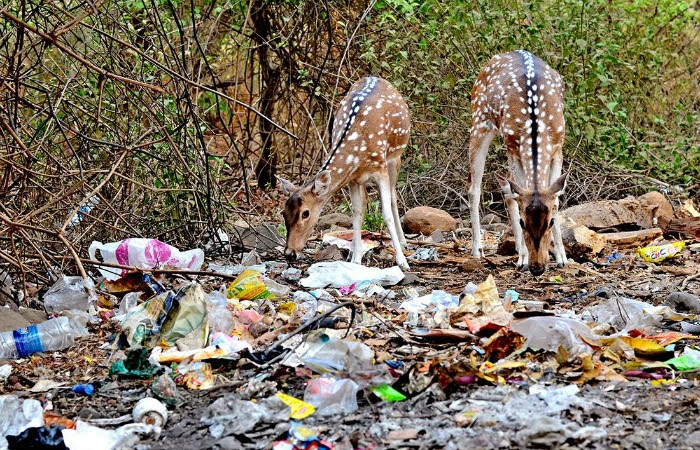 Recykal establishes this key link through accessible, one-touch, technology-friendly tools such as the EPR framework, DRS programs (to aid the government and administrators in policy framework) to address your e-waste needs.

We are helping FMCG and electronic brands run their consumer awareness and take back programs and comply with Extended Producer Responsibility (EPR) rules. Our technology, data, and reporting solutions help governments, policymakers, organisations, and communities adopt sustainable practices while creating a positive social, economic and environmental impact at scale.

With our app-based DRS, which is easily accessible and hassle-free, it is time to implement this system in your organisation or society! If you are a company or organisation looking to introduce the DRS system, We are here to assist you! Get in touch with us to know more or head over to our website.
"DRS will help keep high-quality materials in the loop and greatly reduce the burden on resources"